Shipping is $7 per bracelet within Canada and FREE if you buy 2
---
---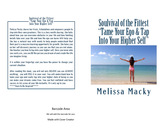 Angels are Divine Beings of light who respond to our calls for guidance, assistance, protection,
and comfort. They are able to help guide you in your next step to take and offer you insight on your life's journey. They are always here for you, all you need to do is invite them in. Angels surround you all the time. God's thoughts of love create angels. That love is within you. You have the power to change your destiny today and sometimes it is the angels that give you the permission or the kick in the butt to get going. See what your Angels are saying today and be empowered.
20/30 Min Angel Card Reading

Allow Melissa to tap into the messages the Angels have specifically for you in this quick session. This reading will offer you insight into something you need clarity or answers on in your life. It really is a great tool to see or confirm what it is you need to hear right now in your life. Trust in your intuition; there's no coincidence you are viewing this page right now. Schedule a session today, the angels are waiting.
CLICK
RIGHT HERE
FOR AVAILABILITY